Southwest Egg Roll in a Bowl (AIP/Paleo/Keto)
This Southwest Egg Roll in a Bowl ( AIP/Paleo/Keto) is an easy dinner the whole family will love.  The words "southwest" and "egg roll" not jiving for ya?  Let me help.  Think: egg roll filling takes a lil' trip south of the border.  If you're familiar with classic egg roll in a bowl renditions, you'll appreciate the extra twist of lime and cilantro in this recipe.
You'll need:
A skillet
A pound of ground beef
Veggies
Coconut aminos & some yummy toppings
There's Many Reasons to Love this Dish
Easy Cleanup:
Don't you just love it when there's only ONE dish to clean.  I mean, I'm all about cooking at home, but sometimes the dishes can be a bit much, right?
Prep WHILE Cooking: 
No time is wasted here, you can chop your veggies while the meat is browning.  Boom!
No weird ingredients: 
Meat and veggies, people.  That's it.  Okay, I can see that coconut aminos might be new to you.  But, if so, then PLEASE, PLEASE do yourself a
flavor 
favor and buy this stuff in bulk! Traditionally, coconut aminos have been looked at as just a soy sauce substitute; however, I use it on EVERYTHING!  Grilling burgers? Add a dash to the patties.  Slow cooker chicken? Add a tablespoon.   Zapping frozen veggies for lunch?  Add a splash.  It's really the "put-it-on-everything" cooking staple you've been looking for.
Prepackaged Veggies or Money-Saving Chopping: 
Choose your own adventure.  Sometimes I grab one or two bags of Trader Joe's organic red and green shredded cabbage for under two bucks.  Sometimes, I take advantage of the sales on a whole head of conventional cabbage at a chain grocery store 'cause I know that cabbage is a lower pesticide veggie.  Each year I like to take another look at the Environmental Working Group's Dirty Dozen list to see where my non-negotiables are for conventional vs. organic produce.
A Big Bowl of Nutrients
Just look at all the vitamins and minerals you'll get from Southwest Egg Roll in a Bowl (AIP/Paleo/Keto):
Mushrooms
: Supply yourself with some
vitamin B2
for antioxidant support,
copper
to help absorb iron, and 
chromium
to help with blood sugar control.  You'll also be getting some good 
fiber
 (yea fiber!) and some
selenium
! (Your thyroid says thank you.)
Cabbage
: Part of the cruciferous group, cabbage is a fabulous source of
vitamin C
 (gives your immune system some love) and
vitamin K
 (aids in mineralizing bones).
I use
both green and red cabbage
, but either is fine.  If you do use red cabbage, you can smile knowing that unique nutrients to red cabbage called anthocyanins have been said to  potentially promote weight loss and improve memory.  Winning!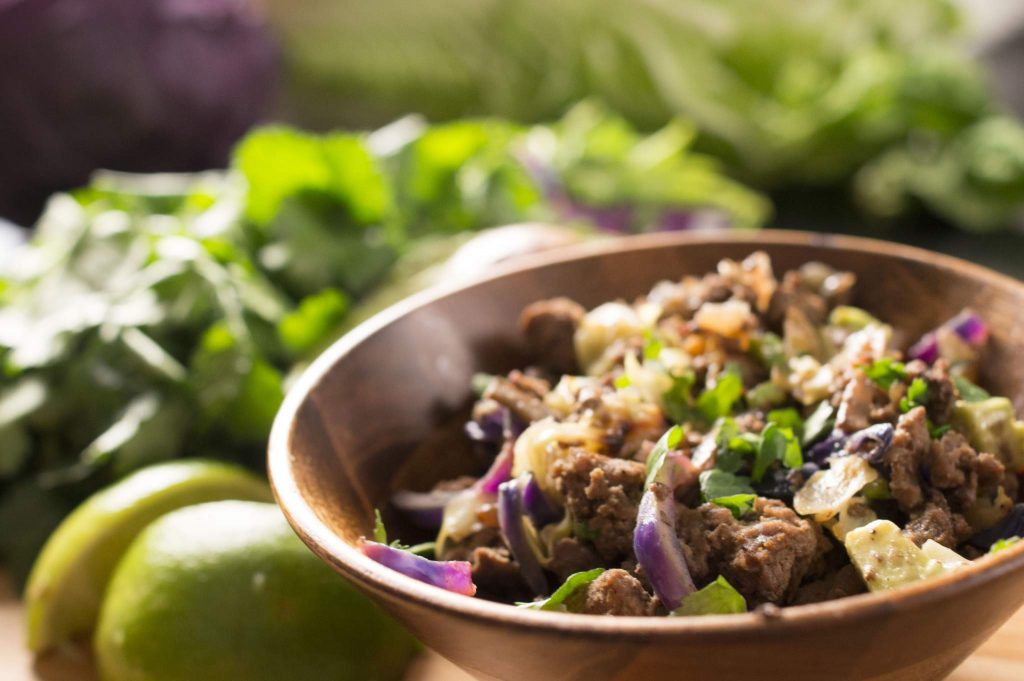 A Profile for Your Needs
 Looking to JERF (Just Eat Real Food)?  This fits the bill while stilling giving you glimpses of those mall foodcourt glory days, minus the MSG and sticky tables.
Focusing on eliminating inflammation and using stored body fat for energy by going the Keto way?  Then you'll love the low carb, nutrient-dense offering here.
Embarking on a Paleo lifestyle or dipping your toe in by following a Whole 30 protocol?  This Southwest Egg Roll in a Bowl meal is free of grains, dairy and soy while concentrating on fresh veggies.  Yum!
Following an autoimmune protocol to manage chronic disease?  This recipe is free of nightshade veggies and off-limit spices.
Let's Get Cooking!
Did you embark on this tasty Southwest Egg Roll in a Bowl journey?  If so, let me know in the comments below!  Got a great idea for a tweak? Share with the community below, yo!  Caring is sharing, right?