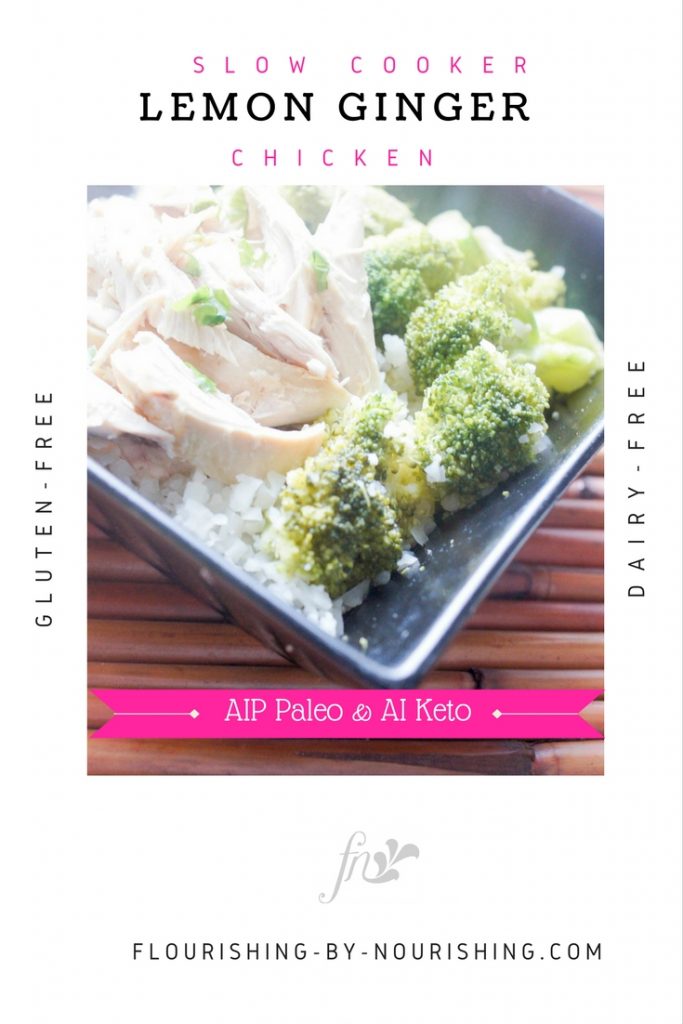 A Go-To Meal When Life is in Go-Mode
This Slow Cooker Lemon Ginger Chicken is a lil' something I like to
throw in the Crock Pot on the way out the door
for church on Sunday mornings.  It's great for
AI Keto
followers,  
AIP Paleo
and just plain ol'
Paleo
or
Whole 30 peeps
.  Put in the slow cooker for 3-4 hours and let your meal cook itself.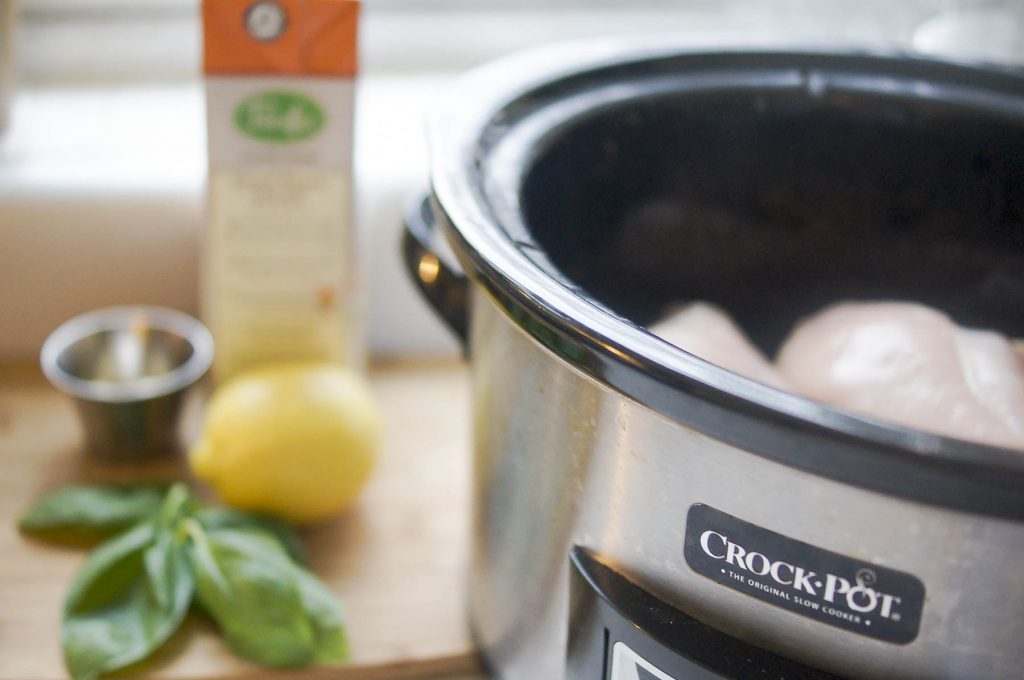 Pair it with Quick Frozen Veggies
I particularly like pairing it with easy-peasy vegetables I can heat quickly.  'Cause by the time we step back in the door for lunch, it's toddler nap-time-countdown time.
Speed and ease = beauty
.  Also sanity. This Slow Cooker Lemon Ginger Chicken (AIP Paleo, AI Keto, Whole 30), is
super yummy with broccoli and riced cauliflower
…and a splash of coconut aminos and fish sauce.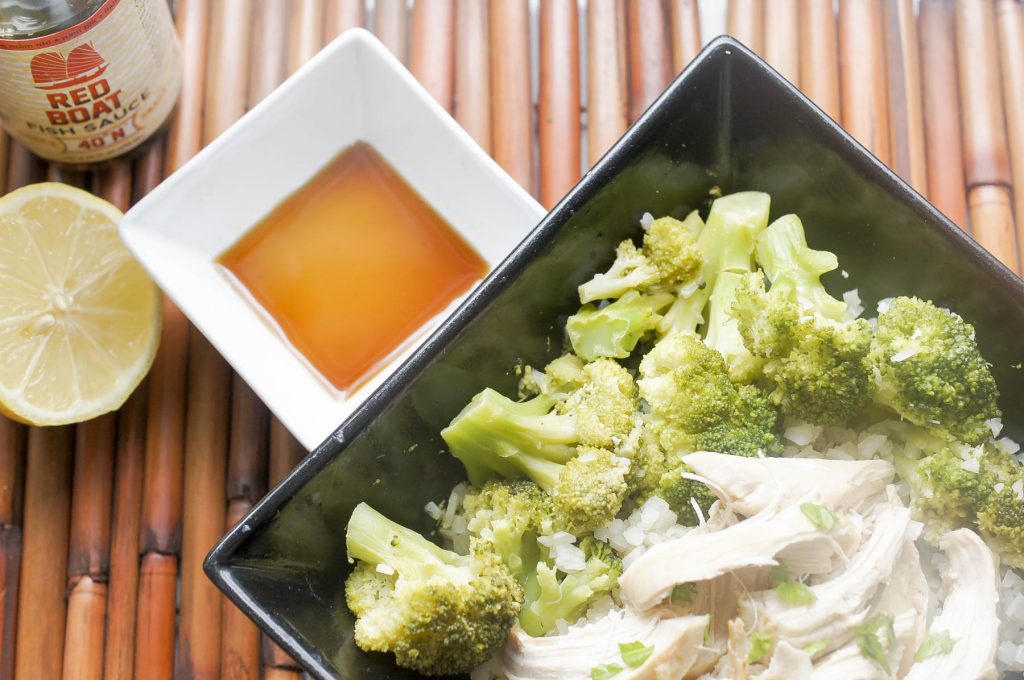 Stock the Freezer with Quick Sides
We ALWAYS stock our freezer with organic  frozen veggies
.  It's a huge life-saver when I'm packing  my husband's lunch in the morning and I realize that while we still have leftover protein for him to take we're out of whatever sides had originally been made…this is usually my fault.  Oops.  Have no fear, quick easy freezer sides are here! For this meal, frozen broccoli and organic frozen rice cauliflower are great to grab from your freezer stockpile.  I usually get the best price on the organic frozen broccoli from Costco, but the prices at Trader Joe's are good, too; under
$2 a bag
where I live.  I've even gotten a few organic frozen broccoli packs from Target on sale recently. Frozen riced cauliflower is a game-changer for those of you accustomed to having to pan-cook it in oil and wait for it to tenderize.  I mean, the fresh variety is delicious and really doesn't take THAT long to make.  But again, there are times you need food FAST.  
This frozen riced cauliflower from Whole Foods is only $1.99 a bag.
 You add water, you heat it, and then you eat it.  Bingo!
This Meal Can be Easy on the Wallet
In review, here's what you're looking at for cost:
Trader Joe's Frozen Broccoli $1.99
Whole Foods Frozen Riced Cauliflower $1.99
Trader Joe's Organic Chicken "Grill Packs" $2.99/lb
Trader Joe's  Organic Lemons $0.50 each 
For me, the
basil
is free because I just grab it from my windowsill!  And, we get our
coconut aminos
at a great price using Thrive Market.   We use it on everything, so I think we've paid for our Thrive membership each year just by our savings on coconut aminos alone! (Also, you can buy it a gallon at a time on Amazon if ya happen to have $50 set aside for coconut aminos.)
Anytime you can stretch your protein, you can stretch your dollar!
 If you need to make your protein-pennies count, then consider making each bowl consist of primarily veggies and use the meat more as a condiment. By the way, if you decide to go with the "Grill Packs" from Trader Joes, know that you can certainly use this recipe for just 2 chicken breasts by themselves; we did for our family of two adults and a two-year-old.  Three hours was perfect for cooking. Got a bigger crew? Probably gonna need two packs.  You may choose to add in the drumsticks that come in the Grill Packs as well.  It's kind of an annoying extra step to have to deal with the drumstick bones during shredding, but as long as you are cool with having dark meat alongside your white meat, it's all good.  Yo.
Hint:  

Keep a container/ziplock freezer bag in the freezer and anytime you have chicken,

remove the meat, and toss the bones in the baggie in the freezer.  Once you've filled up an entire bag, you're ready to make some gut-healing bone broth, my friend!
Double-Duty Meal: Make it a Soup!
Here's something beautiful! This serves roughly 4, but if only two are eating it at a given meal, then the leftovers from your chicken lunch can make a warming soup for dinner or to tote in your lunchbox to work the next day.  I made this when my hubby was coming down with a bit of a sore throat, and it was just what the doctor ordered!  RECIPE COMING SOON! Basically ya just throw everything we used here today in the blender with some coconut milk. Boom!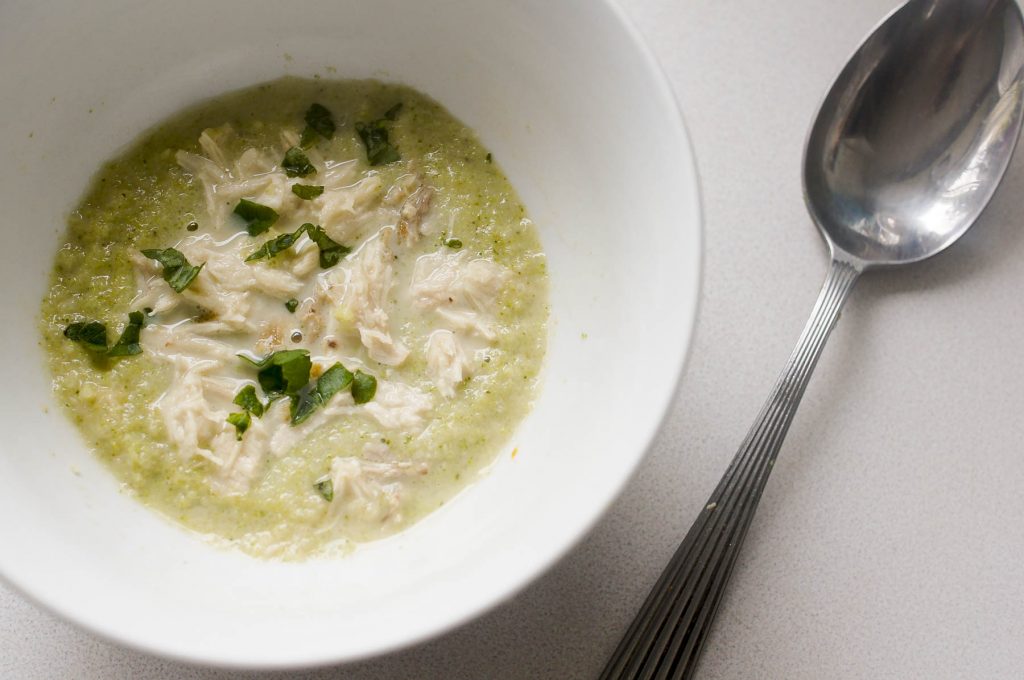 If you're like us, sometimes all the veggies from a meal disappear and we just have leftover meat.  (I just mentioned this, didn't I?!)  This may be due to the fact that I really like veggies.  🙂  Oops.  My fault.  If this happens to you, know that this chicken is also excellent thrown on top of a fresh salad.  Easy-peasy Monday lunch.  Done!