[convertkit]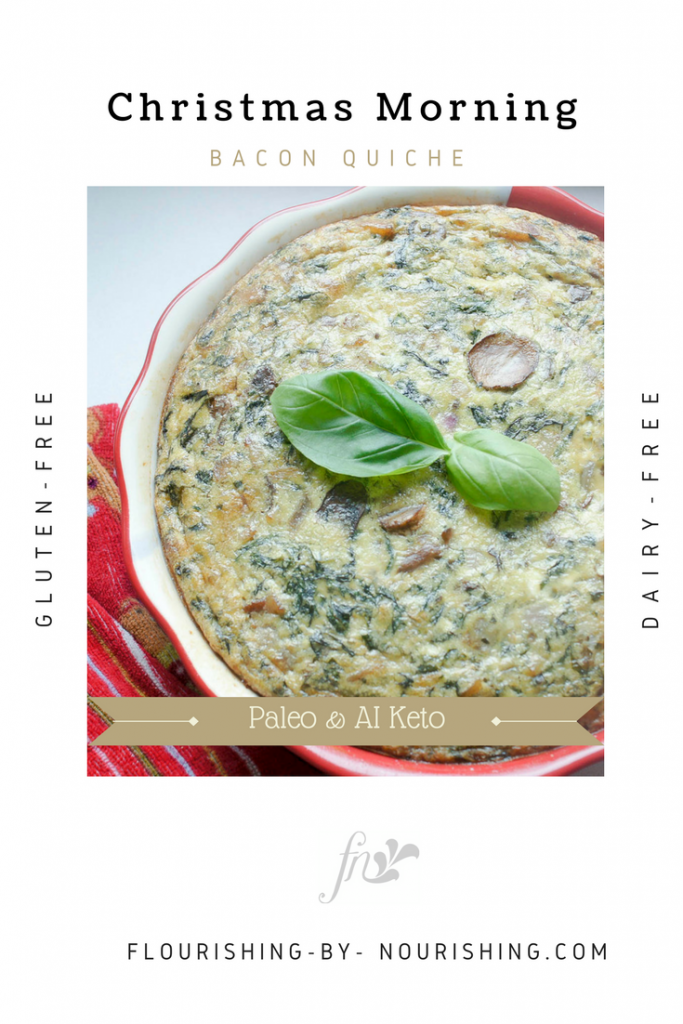 [recipe]
Christmas Morning Bacon Quiche
 (AI Keto, Paleo, Whole30)
I love breakfast any day, any time; however, I especially love breakfast on Christmas morning!  Looking for something to feed your crew this year? This Christmas Morning Bacon Quiche is the answer!  Best part? It fits in with your anti-inflammatory way of eating and is perfect for those following an AI Keto, Paleo or Whole30 template.  (AIP friends that have reintroduced eggs will love this, too!  OR, you can simply just eat the yummy skillet part…I do!)
Reasons I Love Christmas Morning Bacon Quiche:
You can assemble it the night before  (This means more time with fam in the morning and less time with dishes!
Proteins and healthy fats here will not cause a sugar-crash and mood issues (no Grinches here!)
No inflammatory ingredients means no feelings of ickiness ('cause who wants digestive bloat, blood sugar imbalances and achiness during the most wonderful time of the year?)
Lots of veggies
BACON (need I say more?  If pork isn't your thing, you can leave it out and still be perfectly satisfied!)
It's So EASY to Make!
Ya just need a skillet and a mixture or a bowl and spoon.  Deciding to break out those adorable holiday baking dishes hidden somewhere in the basement is totally up to you!
Double-Duty Ingredients for the Win
Okay, so if you're Christmas Eve dinners are like mine, they almost always consist of the following ingredients:
Ham
Dinner Salad
Roasted Veggie
Well, my friends, if you happen to have any of these hanging out in the fridge, then consider swapping ingredients for what you already have on hand!
Joy, Pure Joy
Whether or not you decide to make this yummy dish the star of your Christmas morning menu, I sincerely hope you have a day filled with peace and joy and the love of family and friends.
Okay! Tell me in the comments below: Did you decide to make Christmas Morning Breakfast Quiche a part of your holiday morning???   Did ya make any awesome food swaps?  Tell me!  Tell me!  I love learning from others!!!